Ideal base to explore the Azores
Olá, we (Ger and Marianne) rent out our holidayhouse "Casa do Azevinho"on the island São Jorge.
The house is situated at 100 meters from the sea with an excellent view on Pico (20 km) and Faial (30 km). It is an ideal base to explore the Azores. Besides São Jorge you can visit the islands Pico, Faial and Terceira using the ferryboat connections between the islands.
The Azores - 9 subtropical volcanic islands
The Azores consist of 9 sub-tropical volcanic islands 1600 km west of Lisbon. The islands have large differences in culture and nature. São Jorge is very suitable for a stay of two or three weeks.
São Jorge is beautiful: it has a varied nature, a specific culture, and very friendly people. It is a quiet island for people who love nature. It has pristine parts, where you can make beautiful walks. There are several options for boat rides on the ocean. There are many dolphins and whales around the island.
You can rent the house for a minimum of 5 nights per booking, More information is given on the next page of this website, including photo's.
Ger van der Zee & Marianne van der Hoop
Caminho da Ribeira 6
9800-031 Terreiros (Manadas)
São Jorge
Azores, Portugal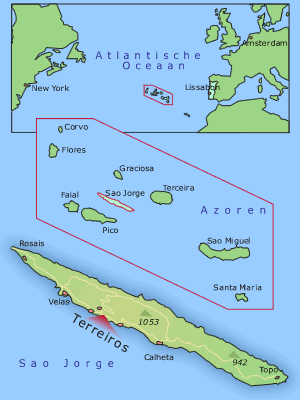 Pictures of the surroundings